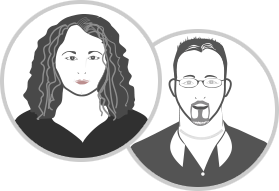 Partners:
Wendy Wetherbee
Neil Wetherbee


If you choose to work with Wetherbee Creative, you will actually work with us. Yes, Wendy and Neil work directly with every client.
We think this is one of the most unique benefits you will experience, and one that absolutely sets us apart.
Because Wetherbee Creative does not employ account reps or project managers, our client's budget dollars are applied where they work best - making sure your project is successful and completed on time. This philosophy also allows us to hear your words directly, offer immediate feedback, and engage in discussion.

When you call us, it will be our voices you hear.
You won't get an IVR and hear "press 1...". Chances are Wendy will answer the phone when you call. Remember that a half hour on the phone is on us*! We want to learn about your business and how we can help. Schedule your free consultation today.

Our footprint is small but our reach is global.
Distances can be reduced using technology, and that's how we stretch our wings. We complete projects for our clients all over North America remotely from our office north of Boston. Reducing travel keeps overhead low, and allows us to focus on what is most important: your project.

We listen intently and deliver the best creative possible. Always.
We actively involve our clients in discussions and brainstorming. We want and need your participation throughout each project and particularly depend on it for discovery and decision-making.

We deliver far more than a pretty picture.
Sure the imagery is important, but if the message doesn't resonate or your website doesn't work, nothing else matters. In addition to creative services and graphic design, we provide content and standards compliant coding for all things "web".

We won't disappear.
Sadly, this is a common occurrence in our industry. You find a great designer or web developer who seems to have the chops and seems to be responsive and reliable... until they aren't. We treat our customers as we want to be treated: fairly, respectfully and reliably. You will be able to find us when you need us. If you have a special request that we can't accommodate, we will do our best to provide you with the name of someone trustworthy who can help you.

Want to talk?
Just call (603) 548-3936, or email
*Wetherbee Creative offers free 1/2 hour phone consultations to our new clients.